util/basicDefs.h File Reference
#include <stdbool.h>
#include <stdint.h>
#include <unistd.h>
Include dependency graph for basicDefs.h: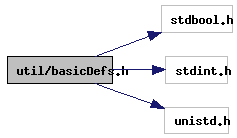 This graph shows which files directly or indirectly include this file:

Go to the source code of this file.
---
Define Documentation
#define _INLINE_FUNC inline
#define INT64_STRLEN_MAX 22
#define PRINTF_PREFIX_INT64_T "%lld"
#define PRINTF_PREFIX_UINT64_T "%llu"
#define SNPRINTF snprintf
Definition at line 73 of file basicDefs.h.
Referenced by checkArgs(), compilePreparedQuery(), createCallbackServer(), createTables(), embedException(), encodeMsgUnit(), execSilent(), fillCache(), getExceptionStr(), handleMessage(), initConnection(), initialize(), interceptUpdate(), messageUnitToXmlLimited(), mutexUnlock(), parseCacheInfo(), parseQueueEntryArr(), persistentQueueClear(), persistentQueueDestroy(), persistentQueueInitialize(), persistentQueuePeekWithSamePriority(), persistentQueuePut(), persistentQueueRandomRemove(), postSendEvent(), preSendEvent(), queueEntryToXml(), sendData(), xmlBlasterAccessUnparsedUsage(), xmlBlasterConnect(), xmlBlasterErase(), xmlBlasterGet(), xmlBlasterInitQueue(), xmlBlasterSubscribe(), and xmlBlasterUnSubscribe().
#define VSNPRINTF vsnprintf
#define XB_USE_PTHREADS 1
Used to dump thread ID in default logging output, undef it if you run single threaded.
Definition at line 147 of file basicDefs.h.
#define XMLBLASTER_C_bool bool
---
Typedef Documentation
Declare function callback pointer about how many bytes are read from socket.
Parameters:

| | | |
| --- | --- | --- |
| | userP | A user pointer |
| | currBytesRead | The currently number of bytes read |
| | nbytes | Totally expected bytes |
Definition at line 156 of file basicDefs.h.